At the end of July the plants were all in excellent shape. The struggle with the Spider Mites was under control and as August arrived, it was time to change the lights to a 12/12 regime. 12/12 means twelve hours that lights are on, 12 hours lights are off. This forces the plants to start flowering. In preparation for this we have built out a second room to hold clones and mothers for the next 60 days under 24/7 (24 hours of light 7 days a week) while flowering the first set of plants in the other room.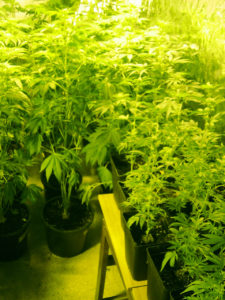 We have not seen a mite in weeks, but we know that war is not over.
Before the flowering starts we have taken clones from most of the plants to keep genetics. We placed them in a second room under the TL (fluorescent) lights to grow at a slower pace. Several events slowed our timetable to change the light timing, so it was the night of Aug 6 before we could force flowering. All the plants started to flower by August 9 except for the Jack Herer's.
A word here about Jack Herer: This plant grows like it has a life of its' own. Even after cutting more than 200 clones, the original mother is still kicking it out and had to be moved to a friend's farm. It became way to big for my balcony. The clones became too big for the room and I stalked and bent them, but nothing can stop the growth.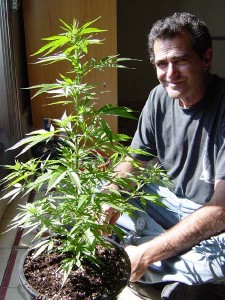 I put them to the 12/12-flower room at about 70cm or 2.5 feet and they just kept growing. They grew another meter before the flowers started to take hold and are now 2 meters high and covered in buds! The room is only a bit higher than 2 meters so the lights cant get to the tops anymore. Yet there is still over a month to go! I have them all along the walls and am bending them over to keep the proper distance from the lights. This plant requires either a very large grow room, an outdoor grow, or perhaps a very short vegetative period, much shorter than that of the Indica or Indica/Sativa hybrids. So a word to the wise: be prepared for a tall plant and a long grow period if you choose to grow a Jack Herer.
The room has gone from a large space with plenty of room, to one where the plants have taken over most available space. We are a bit over stuffed in the room with 20 unexpected Chronic plants. These were pumped up as much as possible with 24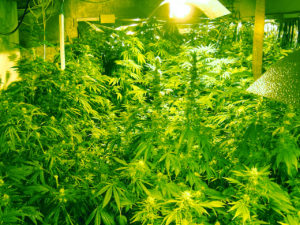 /7 light in the week before we changed timing to 12/12. We hope they may produce 10-15 grams each as tiny plants.
The pictures are in the first week of September making the plants 30 days into flower. The plants have been on 12/12 during that time, and in a word are, "spectacular." Some of the AK-47 buds are more than 8 inches long and fattening fast. The Bob Marley's are even taller and fatter, abundant with white crystal crusted clusters of flowers. The Seedsman Hindu Kush plants are the tallest Indica plants at 1.6 meters, fattening their abundant pungent buds.
The aroma in the room is certainly first-rate as the plants pour the resins on. A grow room seems to have a different bouquet than the plants themselves, taking a more vegetative odor. As I prune the plants each day I am treated to a plethora of scents from the different breeds within the room. I was smart enough to attach a charcoal filter to the ventilator before the smell got me in trouble.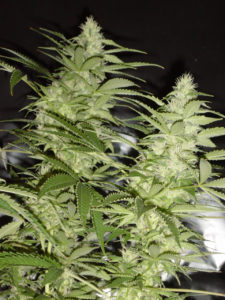 The room has the following breeds flowering: AK-47, Bob Marley, Chronic, Super Silver Haze, White Widow, Hindu Kush Skunk, Sensi Star, Jack Herer, Spontanica, and Sugar Loaf. There are a little over 30 large plants in the flower room, and 20 small ones, covering more than 6 square meters. They require about 50 liters of natural spring water every other day, which we gather from a local spring twice a week. They are fed daily and checked for bugs and insects as well removal of shade and dead leaves that cover other buds.
For now we have everything going along quite well. The flowering plants are thriving and there seem to be no problems. No insects have taken over and there is no more than the daily chores of keeping lights, water, nutrients and air circulation moving while we watch the plants grow. We just hope that it stays this easy until the harvest.
The guerrilla planting has not done as well. We decided not to plant where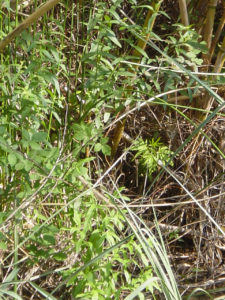 there was no water, limiting grow to the river areas. Because of the amount of tourists walking around Spain we only found a couple suitable places for planting. After 30 days (the end of August) we returned to the river. We found one plant had turned male, Seedsman Hawaiian skunk. We did our duty to other guerilla growers and killed it. One other Seedsman plant, Hawaiian skunk had made it. About 2 foot high with only one bud on it. It was a monster ball of a bud on the top of a naked stem about half meter high. The bud was covered with resin and white hairs bristled everywhere. Impressive. There were two other plants that made it, but they were hidden under the rivers bamboo and actually inside the rivers running waters. It was sort of an organic hydroponics test. The plants had survived, but were about the same size as we left them. We decided to leave them all (except the male) and see what flowers from them in the next few weeks. The first week of September found the weather changed and a week of heavy storms may have wreaked havoc on the plants, we will try and get to them before this story goes out for pictures, but there has been no break in the storm.