More Growing Cannabis for Fun and Profit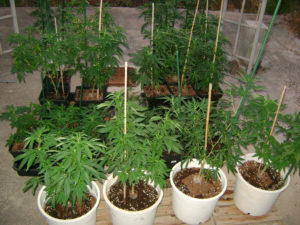 Here we go with some great photos from this summers grow trip in Valencia. I am starting by giving you a great view of the plants from July 4, 2016. Here they are in their grow pots, a bit scrawny but ready for the season. I set them up
close so that they were protected by the larger thicker varieties on the side the wind comes in.
You can see the pots they are in are large and can accommodate the plant as they grow.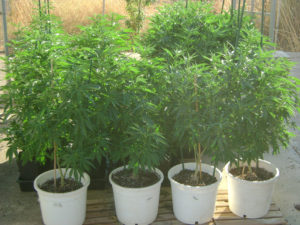 This next shot are the plants on July 26th and they have filled out nicely. The flowers are just starting with a few shooting out. They have no filled out the pots they are in. To accommodate this growth I removed them carefully and filled the bottoms and sides with fresh dirt. As they grew they eat enough to allow about 2 inches on the sides and about 4 inches on the bottom to fill. This should be enough to finish them up. Once again they are all in the same position they were through July. The thick Great White Shark's are in front of the wind with large cement stones placed on top so they do not tip over in the wind. Works great.
These last shots are of the cannabis plants on August 26th and you can see flowers are abundant and shooting up all over. I have trimmed the lower branches and inside to thin them out. Sure it hurts to cut branches with buds on them, but the power of the plant will be better spent on making the primary buds get bigger. It works! Like tomato plants pruning is important if you want big sweet fruits for the harvest!