Jack Herer and the Conspiracy Cup
Jack and I had crossed paths many times in the years. From San Francisco in the last 60's to this last time in Amsterdam at one of the Cannabis Cups. The man was a marvel and stood up in the front line of activism. His book, The Emperor Wears No Cloths, is one of the best books of the corruptions that made hemp illegal. Jack had a real understanding of the global conspiracy that worked to make hemp illegal to open the path for synthetics.
I hate what people have done to the word and concept of conspiracy. It means 2 or more people working to do something legal or not. I can conspire to bring in a load of hash from India by talking about it. I don't have to do it to have conspired. It is sort of you are guilty as long as you talked about it, evil thoughts deserve penalties. Since government conspires all the time their conspiracies out-number civilian ones by a large margin.
You can find the complete book online here,
The Emperor Wears No Clothes: Hemp and the Marijuana Conspiracy.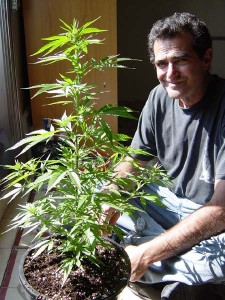 There was a plant called Jack Herer and, of course, I had one. I got it with Jack up in Holland and brought it down to Spain. There I grew it, cloned it, and passed clones around to the Spanish for years. Planting one outside in good soil it would grow to 3 to 4 meters high and dried would produce between a kilo or two of dried bud. This original Jack Herer plant was amazing, a great plant with a special earthy taste reminiscing of old Columbian strains.
The last time I saw Jack Herer was at the 16th Cannabis Cup in Amsterdam. Things were going bad for the Cannabis Cup as, somehow, they were losing money. Jack was inducted into the Hall of Fame at that time and the cup was dubbed the "conspiracy" Cup, because of his amazing book.