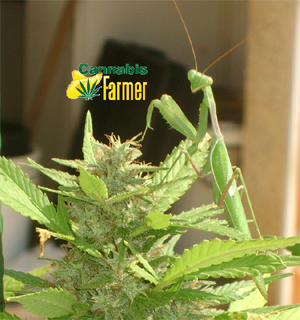 Getting rid of unwanted bugs from your marijuana plants can be a real hassle at times. I am going to try and give you some information from the 50 years growing and using cannabis plants and the fight against it's predators.
Pictured here left is one of the best friends any garden can have in the fight against garden pests – the praying mantis.
Here he is protecting a very nice KC-Brains 13 plant and watching me to see if I am a threat. The mantis is amazing because it eats anything that moves. No matter what is on the plant or garden this creature will devour it and leave the plants in perfect order.
Great for control of plant lice, aphids, white flies, beetles, grasshoppers. spider mites, black flies or the occasional caterpillar. You can buy the eggs in early spring and start your own "neighborhood" for them. I found once I brought them in they would make their own eggs and multiply the next year.
I suggest getting at least 3 egg pods (called ootheca). Each can contain up to 150 of the little mantis and they all come out together in spring when it warms up. Most of them will die but with three eggs you may get at least 30 or so big Mantis to help keep the garden free of bugs.
The only problem will be that they might go elsewhere when the food runs thin, but that is nature for you.
They are really wondrous creatures and give hours of enjoyment watching their antics as they devour the mean pests that infest your pot plants or garden as a whole.
Enjoy!