Cultivating cannabis for fun and profit has been my life for over 50 years. From the joints with the beats in the 1950's to the amazing Panama Red and others I just love to grow cannabis, smoke it, vaporize it, and make hashish with it. Oh my, I am off again!
Here is an experience I had this last fall growing a single seed given to me by a friend in an art class. I am talking about Amnesia Cookies from Mamiko Seeds. Here is what the package talks about the breed:
"This Dutch star is a cross between the San Francisco original Amnesia crossed with their own breed Girl Scout Cookies. A hybrid with a rich and distinctive aroma of Haze right from the cutting with an intense and sweet smell of sugar and cookies."
It is a genetic cross of:
Amnesia Haze Core
Girl Scout Cookies Forum
Well, no problems there and off I went and took the single seed that was given and popped it into a jiffy pot to do its thing. Well, in five days the seed had popped and was growing out nicely. As with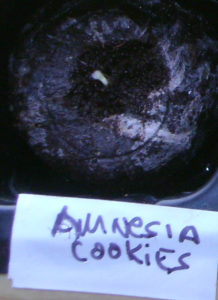 many of these newer hybrid seeds the plant does not start out straight down into the turbo and twists its way in all directions.
Finally it is popped out and found it's footing. So it is off to the races.
I forgot to take any pictures of the initial growth so I can't share that with you but as the seed popped on Nov 1 I had it in a nice 3 liter growing pot by New Years eve and you can see how nice and healthy it was growing. The natural spread of the foliage and branching was all-natural and it showed a lot of promise for a great plant.
By February I had transplanted to a 10 liter growing pot and it was in flower. I had it in a grow closet rigged with 600 watt yellow light and 80 watts ultraviolet. The flowers were looking rich, the
odor was really nice, and it was branching nice and showing flowers from the top to the bottom. Very nice.
Now comes March and it is ready to harvest. It had fat buds from top to bottom. Took 63 days to finish the flowering and here it is before the cut. It has a really nice smell, sweet, enticing and covered in trichomes. I got 65 grams dried flowers and most of them were big. I did get about 15 grams of small bud from the bottom, but they were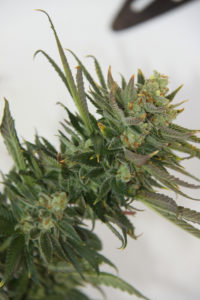 thick, heavy and like sweet rock candy.
If you ask I would post some pictures of the dried bud, but right now I am busy smoking it, so – see ya later!