Everyone asks "How can I grow pot in my yard?" Sometimes you want to know how to grow pot in your home, grow pot on your table, grow pot in the windows, but this is about growing in the back gardens. This is about Marijuana Cultivation or Growing Pot For Fun & Profit. Whether it is for fun, medicine, cloth or food growing cannabis and cultivating pot is not only easy, it can be profitable.
Grow your own and you save big money. Once seed can give you, at a minimum 50 grams and if you have a big strong sativa plant you can even see 3 to 4 pounds of the finest weed you could never buy.
The best pot is your own pot. If you grow cannabis on your own you have the tops! Growers generally do not sell tops, they sell the side and bottom buds. You end up with the little buds and shake. If you grow marijuana in your yard or in your house you can find yourself with the best bud you ever smoked. It is your choice to either buy from someone else stuff they do not want to smoke, or grow your own cannabis and make like a king.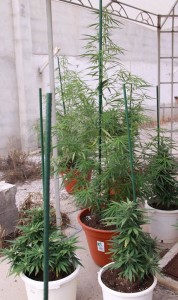 Sativa Indica Plants in Grow with Cannabis Farmers
This year Cannabis Farmer has grown both sativa and indica plants. Cutting both on first full moon in June from mothers and grown exactly the same time into their dirt. The Indicas as of early September are less than a meter tall, the sativa cannabis plants are over 2 meters! The indica plants are in full flower, the sativa have not even started!
In the picture on the left you can see that the short indica plants are already well into flower while the Sativa plants are not even started. The Sativa plants tower over the Indica plants, but will flower much later. For that the Sativa plant will produce more bud, stronger bud, and have more flavor. The only problem will be the cold in the December months when it will be ready to harvest.
Cannabis farming is not always easy, but basically you plant and you harvest. In between are the battles with the bugs, and other predators who also want to get high on Cannabis!